E. Lockhart on Family of Liars – Exclusive Interview, Joelle R.
"I just feel so lucky that things I made up in my head almost ten years ago are a part of other people's imaginations now… that's the miracle of telling stories and putting something in print… people in a city I've never been to or a totally different generation who have totally different lived experiences than me, can still see the inside of my head. That's a magic job." —E. Lockhart, 2022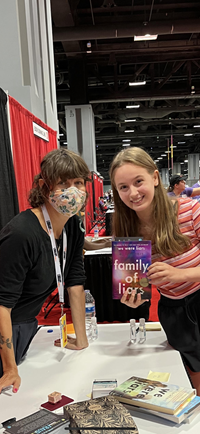 In 2020, We Were Liars made waves on BookTok almost 6 years after its initial release. The sudden rise in popularity inspired New York Times Bestselling Author, E. Lockhart, to write a prequel, releasing Family of Liars in May. I've recently scored an exclusive interview with Ms. Lockhart herself, receiving answers and insight (on both novels) that many readers search for.
Unlike We Were Liars, known for its remarkable turn of events towards the end of the novel, Family of Liars surprised readers all across the world with its plot twist at the very beginning— the introduction of a new character.
"I wanted to surprise my readers off the bat. I think people who have read We Were Liars are expecting a surprise, and they're expecting it in the second half of the book, and I wanted to find a way to surprise them somewhere in the first couple pages," Lockhart shared.
The addition of a 4th sister, one We Were Liars readers never heard of, served as just that: a surprise.
"I got very attached to that character and to what it would do to Carrie's [the main character] personality to have lost her sister, and also what it would do to the rest of the family," Lockhart recalled, "It was a way to put the family in a, you know, a precarious situation where people are suffering, and also where the family dynamic has changed, so nobody knows quite what to make of each other anymore."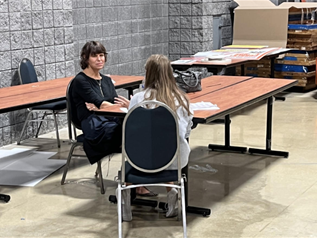 Don't be discouraged, however; that wasn't the only surprise. The book, of course, carried many plot twists throughout. The most surprising? *REDACTED*
Originally, the new novel was titled, "The Beautiful Sinclair Family," but was changed for marketing purposes. Similar experiences were had while titling Genuine Fraud and We Were Liars. However, with Again Again, Lockhart was able to withstand "that rabbit hole".
It wasn't until We Were Liars made it back to the Times List that Lockhart  understood the true power of BookTok (TikTok for books).
"It had been selling nicely for, you know, a couple months because of these videos, but not so well that it had gotten to The Times List… the biggest feeling was that I had readers for, you know, stories set on Beachwood Island… it was so nice to have readers, and I got excited to, you know, see what else I could make set on that island, because I knew that people would read it."
Donate to Frost Roadways and Revelations
Your donation will support the student journalists of Robert Frost Middle School. Your contribution will allow us to purchase equipment and cover our annual website hosting costs.
About the Contributor
Joelle R., Editor-in-chief
This is my second year doing journalism, and I love the platform that the newspaper gives me! I particularly enjoy writing Arts & Entertainment pieces.