Frost Drama will Fascinate Audiences with Willy Wonka
The cast and crew at Frost Theatre Department have been hard at work since January to put together a smashing new musical for you: Willy Wonka!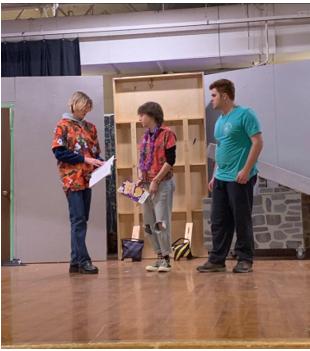 This unusual musical is about an eccentric chocolatier and candy maker with the name of Willy Wonka, who holds a contest to find five coveted golden tickets. The five young children who find these tickets will gain an exclusive tour to his factory, and eventually, a grand prize. 
Our main character, Charlie Bucket, is a young boy whose family lives in poverty. He is the last of the Golden Ticket winners. Allie M., the 8th grader who plays Charlie, had a few words to say about her role. "I like my character because he's pretty much a kid with a dream… generally a pretty positive guy."
Working alone, while good for some, isn't necessarily great for being in a show. Working closely with each other is another way the cast can get to know one another. 
Cody K., who plays the title character of Wonka, has gotten to know many different people through performing in Willy Wonka. 
"I have gotten more friends from theatre, and more excitement and experience on shows and acting. It's a really neat community that I'm glad I've been able to be a part of."
The behind-the-scenes tech aspects of this musical are just as important as the acting is! All the things you don't see work to bring the show together, and the people that make this happen are all incredibly talented.
Just two of these amazing people are Meg D. and Joey K.– set and run crew heads for the show.
Set/Run crew is the group of techies who make backgrounds and help set up scenes. They move everything on and offstage to create the scenes you view, and the ones actors move around in! The heads take charge of this crew. 
"My favorite part of tech is working with people to make something happen. I like working on what's basically a giant art piece and being able to pull the whole show together in terms of scenery," says Joey. "If we didn't have tech, some aspects of the show would be lost in the audience."
Furthermore, the marvelous general director of Willy Wonka is Mr. Lockrem, our theatre teacher here at Frost! It's his second show here, but first musical directed with this school. He shared some things to love about Wonka. 
"What I love about this show is the way all of the tech gets to really shine.. all the cool things they get to make. Every element gets to be working at its best level."  
This musical is really coming together! Dates you can come to see the show are Thursday, May 11th, Friday, May 12th, and Saturday, May 13th at 7pm, as well as a 2pm matinee show on Saturday. 
These few dates are the only times you can come see the magic that these hardworking students bring to the stage, so get tickets while you can! 
Donate to Frost Roadways and Revelations
Your donation will support the student journalists of Robert Frost Middle School. Your contribution will allow us to purchase equipment and cover our annual website hosting costs.
About the Contributor
Blue K., Student Journalist
I'm Blue K, and I like writing news stories and opinion pieces. I think they're super fun and in the latter you get to express yourself! In my free time,...