Robert Frost – The Road Taken
"When power leads man towards arrogance, poetry reminds him of his limitations. When power narrows the areas of man's concern, poetry reminds him of the richness and diversity of his existence. When power corrupts, poetry cleanses."'—John F. Kennedy
Start of the Trail –
Cate S.
Robert Frost was born on March 26th, 1874 to William Frost and Isabelle Moodie. After the death of his father, he, his mother, and his sister, Jeanie, moved to Massachusetts.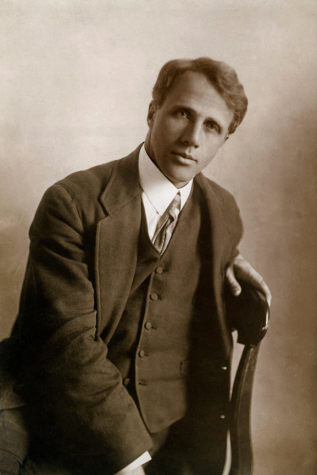 Frost graduated from Lawrence High School, in 1892, as class poet (he also shared the honor of co-valedictorian with his wife-to-be), and two years later, the New York Independent accepted his poem entitled "My Butterfly," for $15.00.This would launch his reputation as a professional poet.
In 1894, he asked for Elinor White's hand in marriage. At first, she turned it down, for her education came first. However, the next year, he proposed to her again, and she accepted. That year, the two were happily married.
Unfortunately, at four years old, their first child died in 1900. Between 1899 and 1907, the couple welcomed 5 more children into the world. Their youngest, however, died at three days old.
Frost began writing poetry while living on a farm in New Hampshire.
In 1912, Frost, Elinor, and their four surviving children moved to Glasgow, Scotland. In the following years, Frost's career got its first major glimpse of success.
In 1915, Frost and his family moved back to the United States, where he pursued a career of writing ,teaching and lecturing. 
Frost suffered from depression for a long time. In 1934, his daughter, Marjorie, died and in 1940, his son, Carol, died. Also, Elinor died of heart failure in 1938. 
His Path to Success
– Siyona K.
Prior to his main career as a poet, Robert Frost worked as a teacher, cobbler, and editor of the Lawrence Sentinel.
His first poem, "My Butterfly," was published in "The Independent" on the 8th of November, 1894.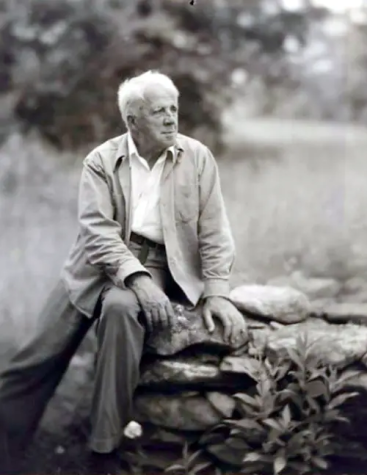 While traveling to England with his wife in 1912, Frost was influenced by the British poets Edward Thomas, Rupert Brooke, and Robert Graves.
In England, he became a friend of Ezra Pound, a fellow poet who helped him publish his writing.
After living in the U.K. for part of his early career, Frost returned to the U.S. in 1915, with two books published: A Boy's Will (Henry Holt and Company, 1913) and North of Boston (Henry Holt and Company, 1914); these collections led to the start of his fame and expanding reputation.
In 1924, Frost won his first Pulitzer Prize for his literature and continued to win more in 1931 and 1937; he won his final prize in 1943.
"The Gift Outright", "Stopping by Woods on a Snowy Evening", "The Road Not Taken", and "Nothing Gold Can Stay" are numerous of Robert Frost's most famous poems.
The work of Robert Frost speaks about nature and expressing oneself, as is seen in one of his poems,
"The Road Not Taken."
Two roads diverged in a wood, and I—
I took the one less traveled by,
And that has made all the difference.
The End of the Road
– Joelle R.
In honor of Robert Frost's 75th birthday, the United States Senate passed a resolution, stating that, "His poems have helped to guide American thought and humor and wisdom, setting forth to our minds a reliable representation of ourselves and of all men." 
After living in-and-out of Vermont for the bulk of his life, "Robert Frost Mountain", located in Ripton, VT., was named after him in 1955.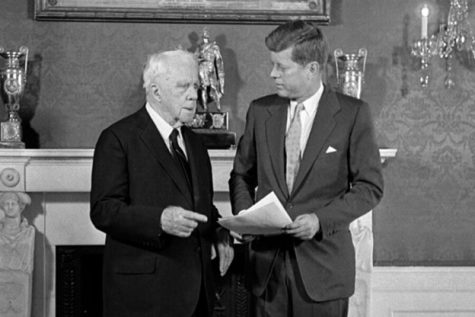 In 1958, the Library of Congress offered him a position as a "consultant in poetry", where he worked until 1959. In 1960, Robert Frost was awarded the Congressional Gold Medal, recognizing his exemplary work as a poet.
Throughout his life, Robert Frost was considered the "unofficial poet laureate" of the United States. He wouldn't become the "official" one until John F. Kennedy's presidential inauguration in 1961. 
Frost had written an original poem for the occasion, titled "Dedication". However, on the day of the event, the intense sun compromised Frost's ability to read the poem. Instead, he recited another poem of his—one that Kennedy preferred—"The Gift Outright." 
Robert Frost died on January 29th, 1963. In October of that year, at the opening of Robert Frost Library in Amherst, Massachusetts, John F. Kennedy delivered a speech, stating that, "Our national strength matters; but the spirit which informs and controls our strength matters just as much. This was the special significance of Robert Frost."
Donate to Frost Roadways and Revelations
Your donation will support the student journalists of Robert Frost Middle School. Your contribution will allow us to purchase equipment and cover our annual website hosting costs.
About the Contributors
Cate S., Editor-in-chief
I'm an 8th grader at Frost Middle School. I enjoy being a student journalist because it is fun to interact and to learn different styles of writing! Opinion...
Joelle R., Editor-in-chief
This is my second year doing journalism, and I love the platform that the newspaper gives me! I particularly enjoy writing Arts & Entertainment pieces.
Siyona K., Editor-in-chief
I enjoy being a journalist at Frost, & especially like to write profiles/news pieces. In my free time, I love to play my violin.