Frost's spellers battle it out in the 2023 Frost Spelling Bee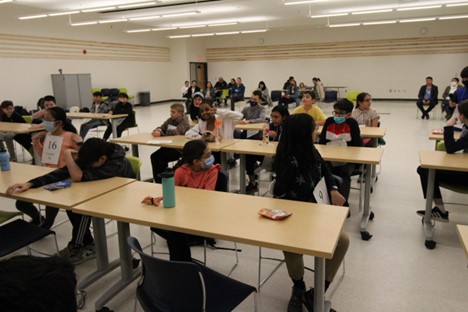 Nearly 50 students sat in the lecture hall of Frost Middle School, awaiting the start of the spelling bee. You could definitely feel the nerves lingering about the room, especially since kids had been anticipating and practicing for the big day. 
This year's spelling bee took place on February 6th, 2023 one Monday afternoon after school. The bee officially started at 2:45 pm, and the spellers began! A practice round was initiated. At first the words started off easy but as the contest progressed the words steadily became harder. 
Najat M, a 7th grade participant, describes the experience as quite nerve racking. "The words were a lot harder than I expected them to be!" She recalls.
The hardest word by far was in fact, fado, a word actually pronounced like "fathu"
Ms. Sharma, one of the spelling bee judges along with Mr Verbicar and Mr. Greenwood, shared her thoughts on this year's contest. "I am always so proud of students for participating in the Spelling Bee. It takes a lot of courage to stand up in front of peers, teachers, and families and spell challenging words.  I think all of the participants are rockstars!"
The spelling bee was finally coming to an end and after battling hard to stay in the competition, two students, Teo K., and Melody C., survived to the final round. They fought valiantly using their knowledge of words and spelling to survive. But, there could only be one winner for the spelling bee. 
After a long mental battle, one came up on top. The contestant that was victorious is Teo K., A 7th grader. The word that claimed his championship was "lustrum", which means "a span of 5 years"
Teo shared his thoughts on his victory, "I couldn't believe it, I couldn't believe I won! I tried to make sure the world was real for a couple seconds!" 
Everyone in the bee did a marvelous job, and Teo agrees, "It was so impressive how long everyone survived."
Hopefully next year's spelling bee will be just as exciting, tense, and captivating as this years!
Donate to Frost Roadways and Revelations
Your donation will support the student journalists of Robert Frost Middle School. Your contribution will allow us to purchase equipment and cover our annual website hosting costs.
About the Contributors
Riley S., Editor-in-chief
I'm a 7th grader at Frost, this is my 1st year taking journalism but I love it so far! I especially enjoy writing opinion pieces and reviews. In my free...
An Ngoc B., Student Journalism
I like to write about hard news. What I like being a student journalist is that you can write how you like instead of following a planed format; it gives...