Fluff Piece: Cuddly Critters Come To Class
May 31st marks the end of mental health month and cuddlefest of serotonin here at Frost. 
72 out of 475 students that applied were chosen to participate in cuddling various critters from guinea pigs to a turtle, bunnies to a chicken– even a pig! The small petting zoo was provided by Squeals on Wheels.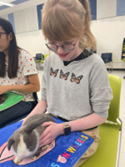 Most of the students went during lunch with some going during Falcon Focus. While waiting in anticipation for his turn, Addie R said, "I just want to pet the cute animals."
The room was quiet except for the occasional squeal of a swaddled piglet or the quiet cluck of an inquisitive chicken. The chicken who could not get her eyes off my notebook.
The teenagers were even given the chance to jump in a cage with the ginormous, attention-seeking bunny, Roxy. She couldn't contain her excitement and did zoomies around the cage. It was practically the fast and the furriest.
Squirrel the bunny was a fan-favorite among the group closely followed by Fish the guinea pig. "I think [Squirrel] is very soft," raved Katie R.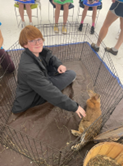 Alex D reported "I felt there was not enough time to pet all the animals, they were all too adorable to choose from."
The experience also provided the students with the occasional fun fact (courtesy of Zoe) such as how piglets are one of the smartest mammals in the world.
The 30-minute stroke session provided the kids with a much-needed escape from the stress of school. Six out of the six students told reporters that they felt much calmer after having one of the critters in their lap for a minute or more.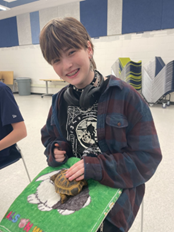 According to the National Institute of Health, petting an animal even for just a moment dramatically reduces levels of cortisol, a stress hormone. 
It was not only fun for the humans, but also for the critters. Fudge the guinea pig "melted" in a schoolkid's lap and another bunny even fell asleep to the gentle cradling of its cheeks. 
Natalie H reported "[Fudge] tried to climb on top of me."
All of the juveniles who were asked announced they would love to see the critter cuddle next year, despite all of them being 8th graders. "Of course, a million times," Adrianna H.
Although cuddling with small critters is fun, it is still important to remember the reason for this wonderful opportunity. "I'm really excited to be a part of this mental health journey" states Abtin M. "I think being with animals boosts you, like, serotonin and boosts your mood"
There's no saying if this fantastic fondle forum will be around for next year but one thing is for certain, it truly was an unforgettable experience.
One more joke: What do you get when you cross a pig with a turtle? A slowpork!
Donate to Frost Roadways and Revelations
Your donation will support the student journalists of Robert Frost Middle School. Your contribution will allow us to purchase equipment and cover our annual website hosting costs.
About the Contributor
Alex D., Student Journalist
Hello, my name is Alex. I am an introverted, observant student who prefers to write profiles and fiction. In my free time, I enjoy reading, writing, pondering,...