Aman & Aziz: Profiles About One Another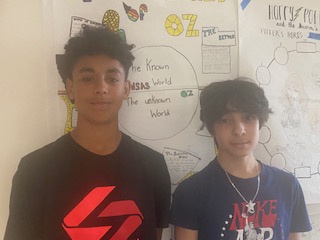 Huge Helmet Hiccup
Written by Aman A.
The full extent of a speed bump is not just to slow the driver down, as Aziz figured out. A couple of years ago, while biking rather fast on the road outside of his apartment, Aziz sped over the bump, flinging in the air alongside his bike, and landing brutally, severely injuring his chin.
With nobody to help him, Aziz ran to his house in agony, where his dad assisted him in covering and bandaging the wound.
Luckily for Aziz, his wound was not severe enough for him to require medical attention, and his dad, and later on his mom, were able to care for him while he recovered. Furthermore, Aziz was fortunate enough to be able to continue everyday activities, such as eating, talking, and even moderate exercise.
 Reflecting on the incident, Aziz says "Although I regret what happened, I am grateful that the injury was not so extreme, and now understand that I am very fortunate".
Aziz now admits to not having been wearing adequate protection, due to the fact he felt it was uncomfortable, and agrees that if he had been wearing a helmet and such he would not have been hurt to the degree he was.
Aziz's father was very wary after the incident and was extremely strict about where he could go outside, in fact, disallowed Aziz from being able to ride his bike for a brief period. Aziz said "Next time I'll wear a helmet", but it still wasn't enough to convince his dad.
However, after a while, Aziz was able to prove his responsibility and is now unrestricted in where he is allowed to ride his bike. Additionally, he now wears the necessary amount of protective gear to keep him safe in the case of an accident.
Life Changing Accident At 4 Years Old
Written by Aziz A.
Life was good before the incident in Ethiopia. My friend Aman was depressed and had to move away from his home country. His parents were torn after the disaster. "This was one of the toughest periods of my life."
He couldn't comprehend what happened as his grandpa was in pain, making it a big step for Aman. His mom told him everything would be okay and comforted him after the accident.
It had been a good day. Then he got home and realized what had happened. Aman was devastated because of his loss, and his Mom assisted him to help him get better. 
Aman's grandpa was taken to the hospital, but unfortunately, he wasn't saved in time. A funeral was held a few days later. Aman flew 17 hours from Ethiopia to America when he was only 5 years old.
He had trouble making friends. Aman says "At the beginning, I didn't really want to connect with others."
Aman didn't speak English at all; it took some time for him to learn the language. If all of these events didn't happen, he would be in Ethiopia. When he arrived in America, he was surprised at the new tech and the view that surrounded him. It was unlike anything he'd seen in Ethiopia.
Afterwards, he joined school. His teachers helped him before and after class to learn English. It took him months to speak English fluently. Aman felt miserable, as he was lonely and tried to keep up with his parents. 
It took time, but he eventually did make a good friend. He met Xavier. Even after he went through all of that, Aman became a very good student and got into the AAP program. All in all, Aman went through a tough time, but learned that there is light after the darkness.
Donate to Frost Roadways and Revelations
Your donation will support the student journalists of Robert Frost Middle School. Your contribution will allow us to purchase equipment and cover our annual website hosting costs.
About the Contributors
Aman A., Student Journalist
My name is Aman A., and I am a seventh grader at Robert Frost Middle School Fairfax, Virginia. Some things I enjoy are playing soccer and the piano, and...
Aziz A., Student Journalist
I like writing about cars and movies that are recent. I also like that when your in journalism you learn recent and new news that happened to be more interesting...