7th Grade Students Challenged with a Collaborative History Project
Seventh grade Frost Middle School students have recently finished a challenging and collaborative project. This project was to create a silent movie to represent a cause from the 1920's; students were asked to film a silent movie with a group, or by themselves.
"I liked how we got to work with our friends. This project really helped me learn about the cause I was doing by researching," said  Stevenson B., a 7th grade student.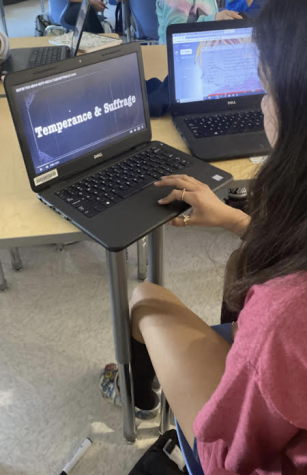 A main aspect of the project was the Collaborative Portrait of a Graduate (POG) skill.  In case you aren't familiar with that term, the POG collaborative skill assures that students are collaborating well with each other and using their time in class effectively. Afterwards, students were asked to write a reflection on their role as a collaborator.
"This project involves a lot of work outside of class time. The history teachers provide no template for students to work with. Instead, it required students to take ownership of creating, revising, and publishing/sharing their final product," Mrs. Pepper, a 7th grade history teacher stated. 
Students were given this assignment with little in class time.  They had to work outside of class in order to complete the project.  They were given some directions and a due date.  Other than that, it was all for them to work out!  This helped students learn how to solve conflicts, as well as understand the 1920's better.  
"It was difficult because it was hard not to laugh during the scenes that were serious, and it was hard to try and film the scenes.  We didn't have exactly everything that was described in our script," said 7th grade student Claire D.
This assignment was meant to challenge and inform students about the unit. With roughly 2 weeks, very minimal class time, and few directions, students managed to create informative and fun movies.   
Once everyone's project was completed, students watched their classmates' movies. All of the students were thrilled to see their projects– it was a great way to end the quarter!
Donate to Frost Roadways and Revelations
Your donation will support the student journalists of Robert Frost Middle School. Your contribution will allow us to purchase equipment and cover our annual website hosting costs.
About the Contributors
Emory B., Student Journalist
Some of the things I love to write about is hard news, opinion pieces and Taylor Swift. Some of my favorite things about being a student journalist is...
Bibianna N., Student Journalist
I enjoy writing stories about tough news to inform others. What I like about journalism is learning how to be a better writer.