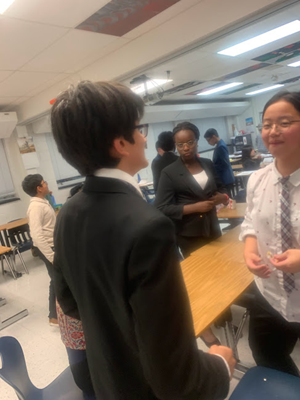 "The award for Outstanding Delegate goes to the U.S!" Everyone clapped as Sophia and Maggie came up to the front and received their certificate. "And the award for Best Delegate goes to Russia!"
On October 13, 2023, the Frost Model United Nations team attended the WoodsonMUN conference. WoodsonMUN was an event that was hosted by Woodson students at Woodson High School. There were two committees in the conference for middle schoolers, the Disarmament & International Security Committee (DISEC ) and the World Health Organization (WHO). This was Frost Model UN (MUN) team's first conference of the year and the first conference for many delegates.
WoodsonMUN was a double delegate conference. This means that two people represented a single country and had to work together. In DISEC, delegates debated the topic of cybersecurity in developing countries, while in WHO they debated improving healthcare and healthcare in conflict zones.
Delegates gave speeches and interacted with one another to form groups. These groups then each wrote a paper and presented them with the goal of enough people voting for their paper. Delegates in the conference perform as well as they can, some with the hope of learning while others with the hope of winning awards.
In WHO, Nhi N. and Caroline T., Nicolas B., and Patrick Z. and Aiden W. won an Honorable Mention. Crystal H. and Nathan C. won Outstanding Delegate, while Evelyn Z. and Steven N. won Best Delegate. In DISEC, Melody C. and Masoom K., Pravin B. and Prakrit M., and Lucy F. and Amanda-Pearl O. won an Honorable Mention. Sophia L. and Maggie W. won Outstanding Delegate, while Isha S. and Krish S. won Best Delegate.
"WoodsonMUN was a great conference overall. Many of our new delegates gained lots of experience and it was a joy to see our returning members being real leaders," stated Evelyn Z., one of the MUN leaders.
While applications for Frost Model UN are closed, students should definitely consider it next year at Frost or in high school. "Kids should do MUN because it helps them be more confident and lets them look at real world issues and further develop their collaboration skills. MUN has helped me learn public speaking skills such as projection and hand movement and debate," said Caroline C., a Frost MUN delegate.
Isha S., another MUN leader, commented,"I've enjoyed being a MUN leader so far and it's great to see all the new delegates improving their MUN skills."