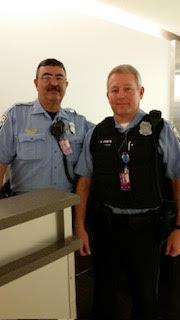 Flying fast in his police car, ready to jump into action at any minute. That was Mr. Cogan years ago when he worked as a police officer. Now Mr. Cogan works at Frost in security, but his morals of safety and assurance still remain very present.
Working as a police officer is pretty contrasted to working at a school with kids, you may even wonder why this job even appealed to Mr. Cogan. He however he had his reasons,
"I wanted to retire early, but ended up working at school for the weekend, days off, and the summer break." Mr Cogan also stated that "I love to travel, especially places like Hawaii or places I can hike and fish." Being at school allowed him to enjoy these things while still working.
Along with these benefits Mr. Cogan also loves the general environment and staff here at Frost. Ms. Champagne even commented, "Mr. Cogan is always ready to pitch in or even lend a helping hand,  he made the whole staff burgers on Indigenous Peoples Day."
Mr. Cogan has lots of experience with security that helps him with his job here at Frost. As a police officer he worked many different jobs including, Patrol Officer, Detective, and work in the courthouse. By a longshot his favorite had to be working with canines, or dogs! 
"I had a german shepherd named Caesar." Mr. Cogan loved his dog and his love for animals still remains today.
Overall Mr. Cogan is an important part of Frost, who likes to have a little fun while also providing a safe and welcome environment for the students and staff in the building.