Mr. Beekman: More Than An English Teacher
Ever met a teacher so fun that you enjoyed every single one of their classes? This particular teacher is Mr. Beekman!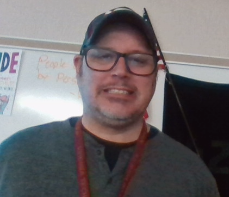 "I like how everyday is different, even if I teach something 5 times, things are always different," stated Mr. Beekman. He feels that different things are always happening in each of his classes, which keeps the job interesting.
But many things happened before Mr. Beekman actually became a teacher.
Mr. Beekman had 2 teachers that really inspired him to be one. His 9th grade science teacher Ms. Bruno, and his wood workshop teacher Mr. O'Keefe. Mr. Beekman really liked Ms. Bruno's teaching style. She was a fun and creative teacher, and the students always did fun activities with her.
Believe it or not, when Mr. Beekman first applied for "teacher school" in college, he was denied. He went on to get a degree in communications. Mr. Beekman went to Virginia Tech. Virginia Tech was a very laid back school.
"I had professors that let me turn things in late." Mr. Beekman has ADHD, so this really helped him out when he needed it. "It was the laid back that helped me be successful."
After Mr. Beekman got his degree in communications, he went on to become an editor at the Pentagon. He worked there for a while, then eventually got his teaching degree, and became the amazing teacher we know today.
Mr. Beekman always gets a kick out of teaching. He finds many things entertaining about it, such as the "Eureka" moment. "That's when the kid finally finds something out. You know, the 'Ooooooooh.' moment," explains Mr. Beekman. "Oh, and when kids cry," He jokes. Mr. Beekman is always incorporating fun activities into his classes, like Edgar Alan Poe day, which is a fun day about exploring the works of Mr. Beekman's favorite poet. Another thing Mr. Beekman likes about teaching is getting the summers off.
Mr. Beekman's students are entertained by his classes. They like his teaching style, which they describe as laid-back and fun. They also appreciate how Mr. Beekman is organized with his tests. They are always in a nice format and are easily understood.
Mr. Beekman describes himself as a weird, but honest, teacher. Even if it sometimes doesn't seem like it, he's always trying to care without looking like he's caring.
"I don't teach English; I teach the whole child," Is the philosophy Mr. Beekman teaches by. He even gives advice on life lessons, like being yourself, which can become helpful later on in life.
Donate to Frost Roadways and Revelations
Your donation will support the student journalists of Robert Frost Middle School. Your contribution will allow us to purchase equipment and cover our annual website hosting costs.