Ms. Tewelde teaches kindness and respect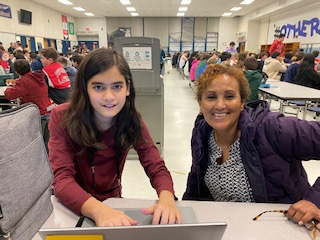 Students often don't think outside the box about their educators. They simply think "This is my educator, just an educator, why would there be any interesting backstory?" Well, many educators do have interesting backstories, and little-known instructional assistant Aster Tewelde is no exception. 
Ms. Tewelde was born in Eritrea, a country in the Horn of Africa near Ethiopia. It is in the southern hemisphere, which means that summer is in December, January, and February, winter is in June, July, and August, and vice versa. "I like the weather because I was born there, you know?" she says. Also, the weather in Eritrea is hotter than the weather here, with less snow in the winter and higher temperatures in the summer.
In Eritrea, life was relatively the same as in America. School was very nearly the same. Ms. Tewelde liked eating injera, a spongy flatbread made from teff, a special Ethiopian grain, central to the dining process in Eritrea. "In Eritrea, I eat injera, which is my country's food, and my favorite food," she says. She lived there for a long time, and still goes there every so often because her parents, brothers, and nieces live there. 
Ms. Tewelde came to America in 2002.  However, she didn't start her job as an instructional assistant at Frost until 2016. Her philosophy of respecting everyone, unless they are repeatedly disrespectful, is central to her teaching. "I respect everyone, as long as they don't be mean over and over and over," she says. Being both kind and respectful is important to her. She works with kids who have disabilities, and she is really kind and supportive towards them. Literally no one dislikes Ms. Tewelde.
This is probably why she describes herself as "a quiet person who's respectful." However, not many people know Ms. Tewelde. She is great to talk to, and those lucky enough to attend Frost can see her during A lunch on Blue days, and B lunch on Gray days.
Donate to Frost Roadways and Revelations
Your donation will support the student journalists of Robert Frost Middle School. Your contribution will allow us to purchase equipment and cover our annual website hosting costs.
About the Contributor
Teo K., Student Journalist
I am a journalist who likes to write about cars, and research them in my free time. I also write about my friends because they deserve recognition.