The Eras Tour – A "Midnight Rain" show in Nashville
FIRST WEEK OF MAY, 2023 – Nashville, Tennessee (AKA 'The Music City') was proud to welcome back their favorite singer and hometown girl, Taylor Swift. The whole city was rocked with excitement at her arrival, as the country-pop star played shows on Friday, Saturday, and Sunday night, respectively. Tourism was high, spirits were higher, and then OOP—so were the storm clouds.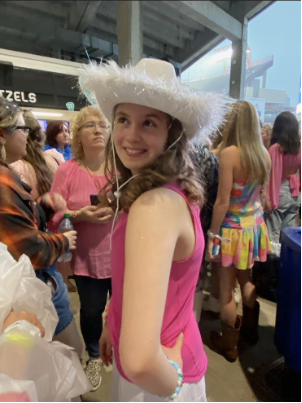 Much of the weekend was spent in anticipation over Swift's various to-be-held concerts, fans speculating about the star's response to being back home. However, the prospect of bad weather introduced a new sense of suspense.
The first two nights in Tennessee were "Sweeter than Fiction" (One Chance); During the Friday show, Swift announced that she would be re-recording her 3rd studio album, "Speak Now", to be released on July 7th.
However, since the weather was able to hold out on Friday and Saturday, by the time Sunday rolled around, the storm clouds were "Bigger Than The Whole Sky" (Midnights). By 6 p.m. on May 7th, it was official–fans would have to meet Taylor "in the pouring rain" (Sparks Fly, Speak Now). 
As someone who attended the 'rain show', what started out as an inconvenience quickly turned into a splashy, and shimmery "Wonderland" (1989), where Swift herself stated, "This is something we're all doing together. It's like such a bonding experience.
We're all gonna leave here tonight looking like we just went through five car washes… People will be like, 'Where were you? Several wars?' And you're like, 'No, I just went to the Eras Tour. It's fine." 
Because we persevered as a crowd, and had to shelter in place for almost 4 hours (go us!), Taylor chose "Would've, Could've, Should've", a song cherished by all Swifties (even my mom), to be one of her two surprise songs.
Although most of us survived "The Great War" (Midnights 3 a.m. edition), a few were not so lucky, and went home before the 4 hours of being shoulder-to-shoulder with other glitter-covered fans were over.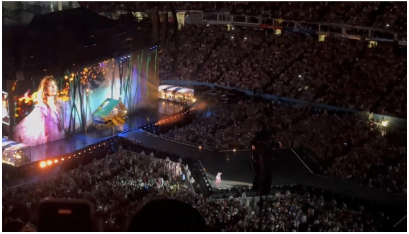 Furthermore, the show started before many 'Swifties' (including myself) got from the concourse to the stadium, because surprise-surprise: people kept fainting!
I have to say that I'm incredibly disappointed in Nissan Stadium and their lack of help — no one was around to guide/aid the pushing and shoving crowds.
However, most of us were "…Ready For It?" (Reputation), and brought ponchos to the concert, which didn't start until 10 p.m. and ended at nearly 2 a.m., in comparison to the usual 6:30-11 p.m. shows. 
Nonetheless, it was an experience that I wouldn't trade, unlike the friendship bracelets that my sister and I spent hours handing out on the bathroom floor. 
I got to see "Shake it off" (1989) live, sang "Lavender Haze" (Midnights) while in a literal haze (it was late, okay?), and had a lot of fun, despite all of the drenched-cowboy-hats and washed-away-glitter.
And Taylor–if you're reading this– "I was enchanted to meet you" (Enchanted, Speak Now). <3 
Donate to Frost Roadways and Revelations
Your donation will support the student journalists of Robert Frost Middle School. Your contribution will allow us to purchase equipment and cover our annual website hosting costs.
About the Contributor
Joelle R., Editor-in-chief
This is my second year doing journalism, and I love the platform that the newspaper gives me! I particularly enjoy writing Arts & Entertainment pieces.