Review: A "Frozen" Fantasy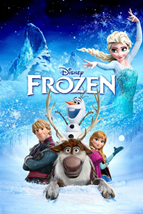 Frozen is a movie filled with action and fantasy. It was an excellent movie with many unexpected twists and turns that caught me off guard. This was an amazing and exciting movie that was always in action. I absolutely love this movie but what makes it so amazing?
The movie starts out with two sisters. Elsa and Anna are playing around with Elsa's ice powers. Elsa accidently hits Anna in the head with snow. Anna is rushed to the Valley of the Living Rock where she is healed, but as an effect, will not remember the incident. Because of the accident Elsa is isolated in her room where she has to wear special gloves that make it so she is unable to freeze anything. Years later Anna and Elsa's parents die in a shipwreck, leaving Elsa to become queen. For the first time since Elsa's Isolation the gates to the castle open for the coronation. Numerous events unfold and they add more separation between the sisters than ever before. Maybe they'll get over it? 
"Frozen" is the perfect blend of heart throb comedy and adventure, and In my opinion an amazing movie. It may have been changing scenes a lot, but I always knew what was going on and I never once was confused. The plot was simple but well executed. The movie was fast paced but it still had amazing graphics and character designs that stayed consistent the whole time. With such a wide variety of amazing actors like Kristen bell, (Anna) and Idina Menzel(Elsa)
In conclusion I believe that "Frozen" was fast paced yet consistent, adventurous, heart throbbing, comedic, and so much more! The design and graphics were amazing and fit the theme perfectly. I 100% recommend this movie to anyone.Their target demographic is for a younger audience, but people all ages would love this heartwarming movie.
Donate to Frost Roadways and Revelations
Your donation will support the student journalists of Robert Frost Middle School. Your contribution will allow us to purchase equipment and cover our annual website hosting costs.