Juvenile interest in literature dwindles over time
The importance of literacy and reading is something most students are familiar with. We have English classes, book clubs, and even a school library, all of which promote reading. However, despite the emphasis on reading, teen literacy and leisure reading rates have dropped drastically in the last decade.
"I used to go through around four books a week during 5th grade and completely surrounded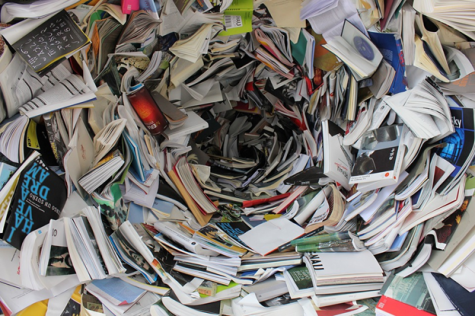 myself with them," says Siena O., an eighth grader at Frost Middle School and avid reader throughout elementary school. 
"Sometime after the pandemic, I just found myself completely out of the habit," Siena describes, elaborating on her drop in reading, "It was so much more time-consuming and exhausting, and the more mature books I read seemed so lengthy and depressing."
This dropping trend in reading seems to be supported by data from various surveys and research centers as well.
The Pew Research Center estimates that among 13-year-olds in the 2019-20 school year, 17% said they read for pleasure every day, 23% said they read once or twice a week, 16% said they read once or twice a month, and 15% said they read a few times a year.
Compared to surveys from 2012, there has been a considerable decline in leisure reading in children and teens. For example, the percentage of 13-year-olds that read for fun every day was 10% greater than the most recent data set.
The Bookseller, a business magazine dedicated to the book industry, reported a drop in sales for various book categories from 2021 to 2022. Sales of printed books declined by 6.5%, there was an 8.8% decrease in "juvenile fiction" sales, and a slight drop in YA fiction and nonfiction sales: 0.2% and 4.6% respectively.
Although the lack of interest in reading has noticeably impacted the book industry, the effect it has on teens' and juveniles' academics and quality of life can still be considered debatable.
Despite the drop in interest in reading, data from the National Assessment of Educational Progress has shown that there have not been any notable changes in the results of standardized testing since 1992. Although there was a decrease in the average reading scores by 3 points compared to 2019, the average literacy scores for the last 30 years have always ranged from 260 to 265 out of 500 points.
On the other hand, Mrs. Balduf, an English teacher of 19 years, finds reading to have an extensive effect on juveniles' quality of life which should not be ignored. "It increases your empathy, it increases your ability to see things from other perspectives, and in a world where we're so consumed with what people think about us, it's important to take a step back and see life through other lenses," she describes.
The interest in the art of literature has, beyond any doubt, been slowly withering away over the years, but it could be on the way to experiencing a renaissance and rekindling the previously lost enjoyment of reading and writing. The importance of literature has been constantly emphasized for millennia, and whether or not it impacts our lives today, it's essential to keep this art alive.
Donate to Frost Roadways and Revelations
Your donation will support the student journalists of Robert Frost Middle School. Your contribution will allow us to purchase equipment and cover our annual website hosting costs.
About the Contributor
Avery C., Student Journalist
I adore almost all forms of art (visual arts, music, literature, etc.) and all kinds of horror media like movies and novels. I tend to write more factual...