Kids and teachers overjoyed as they throw open the doors to a new class
Have you had to walk back and forth all across the school every day? Well, the latest part of the Frost renovation is finally getting rid of all of that by moving the modular and trailer classes into the building once and for all. 
This move happened after spring break on April 10th because the renovations in the school were almost over. 
"I think that it was an amazing idea to move classes in trailers and modulars back into the main building. I think that this gives students more time to get to classes because they are closer together, and students do not have to go outside in bad weather," said Christian Y., a seventh-grader at Frost Middle School.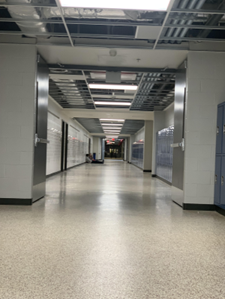 Most students agree with Christian, and are excited to move into the building, but not all kids are thrilled with the latest part of the Frost renovation.  
"I'd honestly miss the fresh air and sunshine I get when I walk outside to go to my classes," said student Dhanavan D.
You'd think that every student would like this but there are some outliers. But that has to be different for teachers right? Well from some teachers' perspectives, it's not one hundred percent pros. 
"I loved my trailer. I loved being outside and being able to control the heating and AC, but I'm really excited to come inside to be closer to more teachers and students. I'm also really excited about my new SMART board in my new classroom," said Mrs. Champagne, the journalism and creative writing teacher. 
Contrary to Mrs. Champagne, Mrs. Raddock, a seventh-grade English Teacher, said, "Although this is a busy time of year, I am delighted to move into the building. Our new room is larger and brighter than the trailer, which we all will appreciate. The projector is also mounted to the ceiling which means I won't have to block the light as I walk in the front of the room. Small things matter, and this will be a wonderful change."
Everyone has their own opinion about this, but most people are excited in some way or another about our brand new space and the hard working people who transformed Frost into a beautiful place to learn over the last couple years.
It isn't just our school that is being renovated, in fact, FCPS renovated seven elementary schools, three middle schools, and five high schools in 2022 alone.
Donate to Frost Roadways and Revelations
Your donation will support the student journalists of Robert Frost Middle School. Your contribution will allow us to purchase equipment and cover our annual website hosting costs.
About the Contributor
Samvit H., Student Journalist
I really like dogs and swimming. I'm an avid reader and I like to watch Anime and other funny, or maybe horror related things.